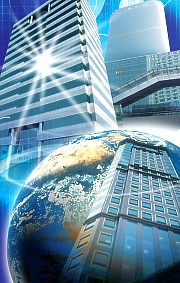 HTE -- was formed in 1990 in Taipei, Taiwan from the home of Chairman Gorden C. Pan. He had hopes and dreams of providing a product that would change the lives of those who used it. He also wanted to create an opportunity for people to work from home and provide them with a significant second income capable of growing to a full-time occupation.
In addition, Mr. Pan dreamt of the day when HTE would become a global business with offices around the world distributing products and providing home office support to the independent Distributors of each country.
Along with an incredible product - the Original Chi MachineR- Mr. Pan credits much of HTE's success to the support of his wife and children as well as several best friends who now bear the title of "co-founders": Long-I Chan, Chuan-Fu Lee, Chih-Tai Chiu, and Jui-Yuan Yen.
As it moves boldly into the new millennium,
HTE is pleased to be operating offices in 11 countries:
1 -- Taiwan 09/1990
2 -- Malaysia 01/1993
3 -- Hong Kong 06/1993
4 -- USA 10/1993
5 -- Thailand 02/1994
6 -- China 08/1994
7 -- Australia 07/1995
8 -- Indonesia 10/1996
9 -- Canada 02/2001
10 -- Korea 03/2001
11 -- Mexico 07/2002
The HTE worldwide success story is a strong and wonderful prospecting story. Unlike other companies starting in the USA but gaining a global foothold - HTE has become a thriving international enterprise with an ever-growing future.
In fact, HTE's global reach permits you to sell product and enroll Distributors anywhere HTE does business - while still only being required to make your initial, 1-time purchase. With the HTE business opportunity, you can collect commissions and bonuses from sales and recruiting activities taking place all around the world!
The Incredible Original Chi Machine
More than a decade ago, Mr. Pan believed he had discovered a "secret to improving the quality of life, both physically and financially."
What Mr. Pan discovered is that researchers in Japan had learned many years earlier about the therapeutic massage-like qualities of combining special breathing techniques and movement with a traditional meditative, relaxed position. Dr. Shizuo Inoue's work with this practice has merited his beliefs and research being taught to hundreds of thousands of students.
However, often many people in today's society are too busy to spend the time for what may seem like tedious breathing, meditative practices, or simply an overall exercise regime. Understanding this, Dr. Inoue's goal was to make the same therapeutic benefits available to busy, working people who seemingly did not have the time to improve their health.
Note: Some of the information in the HTE Story and Overview was extracted from "Aerobic Respiration Exercise and Health" by Dr. Shizuo Inoue. The book is available from HTE and is recommended reading for HTE Distributors.