Qualities & Advantages
Seven Qualities of the SOQI Chi Spa

1) Perfect Combination of Eastern Traditional Medicine and Western Health Technology :

SOQI Chi Spa consists of traditional Chi Kong, Chiropractic, Massage Therapy, Physical Therapy, and Spa, and all of which are fully natural. Along with our engineering-leveled technology and health-caring equipment, we are able to offer multi-energy Total Health Management. SOQI Chi Spa believes that we can manage health as well as we can manage the business, and as long as we manage it with our heart, it can be eternal.
2) SOQI Chi Spa is a smart health enhancing management system for modern lazy people :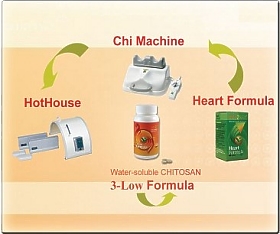 Energy, oxygen, light therapy, and vegetable enzymes are the essential elements needed to achieve great health. SOQI Total Health Management system combines Far Infrared Heat (HotHouse) physical resonance (Chi Machine), and low frequency waves (reflexology - ERE) with Total Enzymes catalytic proteins and Chi Formulas Energy Supplement. Total Enzyme is equivalent to a mixture of more than eighty different vegetables! The SOQI Chi Spa provides aerobic stimulation, while sunbathing safely and comfortably. There is nothing but enjoyment, health and wellness when using the SOQI Total Health Spa.
3) Customized Health Management Monitoring System :

The SOQI Chi Spa is a patented invention based on physics engineering. On the surface of the skin, we can locate specific acupoints to examine ones health condition. We are able to measure the exact electrical resistance for each acupoint using the Energy Measurement Device (EMD); such data can be very useful toward the examination. With our expertise in Eastern and Western theories, we offer a suitable, healthy formula designed just for you, so you can continuously manage your health.
4) Serving You with Sincerity :

In the SOQI Chi Spa Center Workshop, we have professionally trained consultants who are dedicated to their job, and strive to provide a clean, relaxed, and comfortable environment. The SOQI experience is magical and can be best described as providing a joyful and healthy feeling.
5) A True Experience with Exotic Luxury :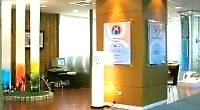 SOQI Chi Spa is beneficial to ones body, mind, and soul. It provides a feeling of deep relaxation, which can lead to better nighttime sleep, better joint mobility, and better energy for its users. As our body adapts to the SOQI Chi Spa environment, it becomes healthy while your mind and soul become more positive.
6) A World-Class High-Tech Manufacturer :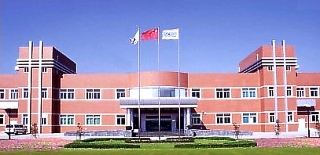 HTE has invested a great deal in the He Fei High-Tech District of China. In July of 2002, the thirteen thousand square foot Merit Technology Development was founded. During the same year, this facility earned ISO9001 recognition. In addition to receiving approval from the Chinese governments pharmaceutical industry, we were also approved to provide our products in almost 30 other countries. Our products are very popular in these countries as our product development, operations management, and innovation of technology are consistently considered to be leading the industry.
7) Future Trends-The Chi Culture of Health Management :

Scientists have already proven the existence of Chi, and Chi is known for its amazing, natural, and effective anti-aging treatment. As increased numbers of people study Eastern Chi, we predict the future trend will continue to lean toward an all-natural Chi experience. We will not be surprised to see HTE dominate the industry over the next 10 years.